News and Activities
27 July 2023
'OCC', Thailand's tallest luxury office building, unveils 'BNP Paribas', as its latest tenant, Reinforcing the image of the ultra-luxury landmark of Asia as the best choice of new office location for world-class companies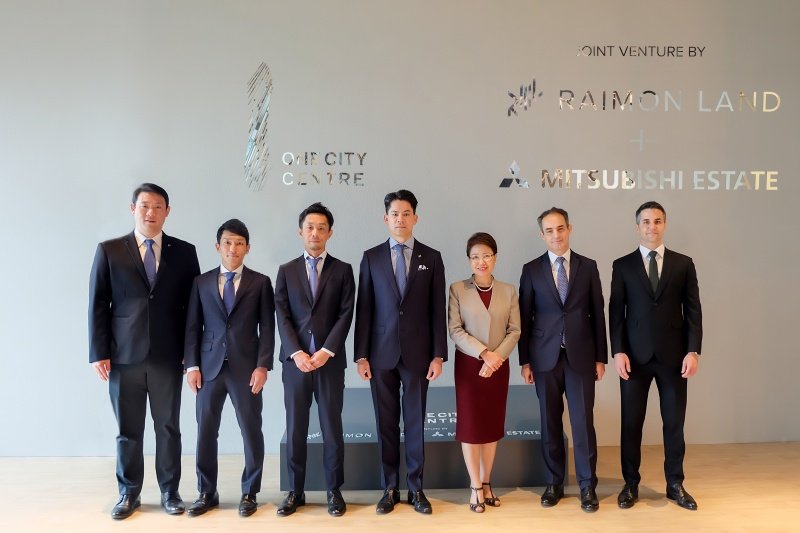 RML (Raimon Land Public Company Limited), leader of luxury and ultra luxury real estate development, and Mitsubishi Estate (Thailand) Co.,Ltd., Thailand base of global real estate giant from Japan and joint venture partner of OCC (One City Centre), recently signed a lease agreement with BNP Paribas Bangkok Branch, for the latter to occupy office space on the 41st floor of OCC as its new office in the heart of Ploenchit.
The relocation of BNP Paribas Bangkok Branch to OCC reinforces the position of the iconic building as one of the metropolitan landmarks in Asia that is committed to the highest standards, including the deployment of advanced technologies and a suite of smart solutions in the areas of health, hygiene and environment, as well as the superior and rigorous security systems. OCC's exceptional quality has attracted many leading global companies seeking an ideal location for their headquarters and such successful tenancy has brought tremendous pride to the building.
OCC is a Grade A+ luxury office building with a total project value of over THB 8.8 billion, boasting a total rental space of approximately 61,000 square meters, which is located on a plot of over six rai in the heart of Ploenchit connecting with Ploenchit BTS Station.It is distinguished design was carried out by world-renowned design firm Skidmore, Owings & Merrill (Thailand) Co., Ltd., one of the world's largest design firms with proficiency in architectural design of commercial buildings which has led some of the world's tallest buildings. SOM designed OCC by working with a multidisciplinary team of leading local architecture and design firms, such as Shma Company Limited, a famous landscape architecture platform; dwp, a world-class architectural and interior design company with many decades of experiences in Thailand; and Design 103 International Limited, etc. Besides, OCC is one of the most advanced buildings in Thailand that provides convenience to tenants in every aspect of work and daily life through smart building solutions, including the Smart Tenant Access Application that enables tenants to enter and exit the building conveniently and securely with contactless experience via the adoption of QR Code technology, and the Smart Elevator Access system that enables users to call an elevator using their own smartphone. Such quality-conscious designing that pays attention to every details has resulted in OCC winning many accolades for its quality excellence from various institutions, including the 2-star Fitwel rating from the U.S.-based Center for Active Design
(CfAD) for its outstanding building development and the superior characteristics of employee-friendly workplace and efficient use of office space, and the Office Development of the Year Award from Real Estate Asia Awards 2021 for the most outstanding building management innovation in Asia Pacific.
Prospective tenants interested in office or retail spaces can obtain further information by contacting CBRE sales representative at Tel. 02-119-2707, 089-010-5410 or visiting the websites: https://bit.ly/41Q81uV or www.onecitycentrebangkok.com.