Press Releases
23 August 2022
Raimon Land invites celebrities to experience ultra-luxury condo at "The Estelle Phrom Phong" Pet-friendly condo in the heart of Sukhumvit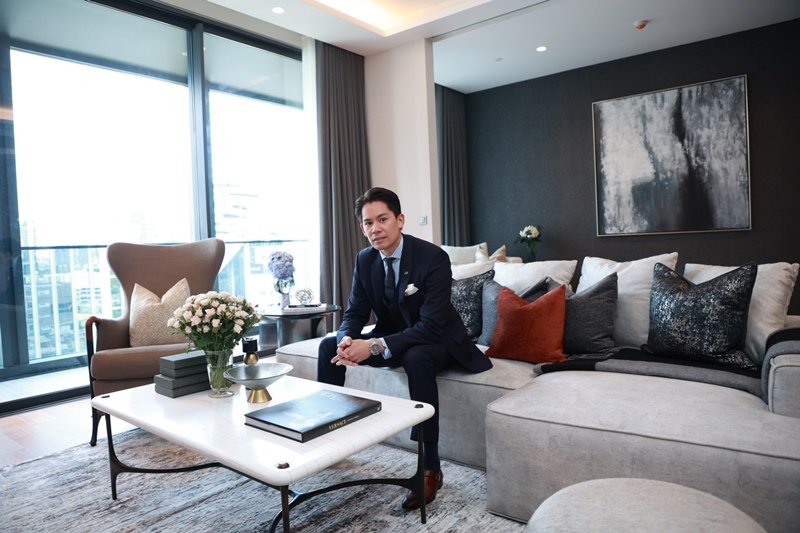 Amidst the hustle of the city center, there is still one beautiful residence which can create a feeling of tranquility along with lush green spaces, making residents feel at ease, located on Sukhumvit 26. "The Estelle Phrom Phong", a joint venture project between Raimon Land Public Company Limited and Tokyo Tatemono, a highly experienced Japanese developer. Recently, Korn Narongdej, Chief Executive Officer of Raimon Land Public Company Limited along with Sririta Jensen Narongdej invited celebrities, most notably Aimsiga "Jinny" Chotivichit, Parva "Birdy" Nakasai, and Tanyawan "Aey" Devahastin, to experience the new 2 bedroom show unit decorated in 'Millennial Chic' style.
Korn Narongdej, Chief Executive Officer of Raimon Land Public Company Limited said "The Estelle Phrom Phong is the only ultra-luxury condominium located in the prestigious location of Sukhumvit - only 2 minutes from Phrom Phong BTS station. Designed under the concept "The Prime Address, The Ultimate Lifestyle," the project provides an extensive range of facilities and amenities, Luxury Zen inspired lobby and garden, Non-chlorine filtration system swimming pool, Separated male and female onsen, the salt-water floatation pool, Fully - equipped fitness by Techno Gym, world class fitness equipment brand, 24 - hour concierge service, Mercedes Benz S-class limousine service, the dedicated guest room, and pet-friendly area for spending time doing leisure activities with your beloved pets."
For the latest new show unit room of The Estelle Phrom Phong, Raimon Land brings the main concept of 'Luxury Reimagined' - luxury beyond imagination through a timeless classic design. Decorated in the style of "Millennial Chic", emphasizing gray tones, contrasting with light-colored furniture to stand out. The highlight of the room is the panel wall of imported Italian marble Bardiglio Nuvolatoin dark toned color which makesthe room looks dimensional and elegant.
Sririta Jensen Narongdej, a representative of modern mother, added "For me, The Estelle Phrom Phong is an ideal condominium for family members of all ages, either a family with children or a pet. It truly ticks all the boxes of the residential needs you will meet. Starting from the location surrounded by all amenities within reach; renowned department stores, international schools, and hospitals, extensive offerings of living spaces ranging from one to four bedrooms designed with privacy, also common area that precisely caters to a variety of lifestyles. For parents who are looking for a home right in the heart of the city, this is your perfect answer, it is not onlyclose to educational institutions and not crowded, but it is easily accessible for transportation."
"Right upon stepping into the room, I thought to myself that it was indeed quiet and private. "I personally highly value of my privacy" recounted the talented Aimsiga "Jinny" Chotivichit when asked to share her feeling after touring thenew show unit. "The first and foremost considerations while choosing a place to live for myself are safety and privacy. I am really impressed with exclusive unit with a private lift and the dedicated guest room, or more so by the fact that The Estelle Phrom Phong does go an extra mile as to take into account guests of room owners, facilitating their close friends whenever they come to house parties with the dedicated guest room - a cut above its contemporaries only its residents have luxury of"
As expected of such a self-assertive fashionista, Parva "Birdy" Nakasaibared it all to the world, saying, "This latest show suite is nothing short of my favorite style for The Estelle Phrom Phong, every element counts - well - designed, wellthought-out, and well-put-together, blending harmoniously in terms of color selection or use of materials. The decoration is mainly in gray tones, with dark marble walls serving as leading lines, which I really am a fan of. Well, people do know that I enjoy doing both indoor and outdoor activities so this project is my perfect answer, with its nonchlorine filtration system swimming pool, salt-water floatation pool which cannot be found elsewhere and separated onsen. It allows me to do all of my favorite activities. Going shopping at the Emporium is very convenient given that it is only 200 meters away from the project."
Tanyawan "Aey" Devahastin also revealed her impression by The Estelle Phrom Phong's carefully curated eclectic selection of features, saying: "I'm very glad that the project is pet - friendly, as if it is tailored to my exact needs as a pet lover, which is quite rare to find these days. For us, pets are family members, and the project really nailed it, coming with the pet - friendly area where we can spend time doing activities with our beloved pets without troubling other people, not to mention the outstandinginterior and exterior building design, the prime location, as well as the 24 - hour concierge service and the limousine service. I'm really impressed that the project has it all in one place."
For those interested in The Estelle Phrom Phong, from now until September 30th, 2022, special price unit starts at 16.8 million baht, and when purchasing a two-bedroom typeor more, you can enjoy 3 days 2 nightspackage from luxurious private villa, Villa Amarisa worth 250,000 baht.
Visit show units on actual building at The Estelle Phrom Phong located on Sukhumvit 26. For more details, call 02-029- 1888, Line Official @raimonland or visit www.raimonland.com