Press Releases
23 March 2016
2016 Frost & Sullivan Thailand Property Development Product Leadership Award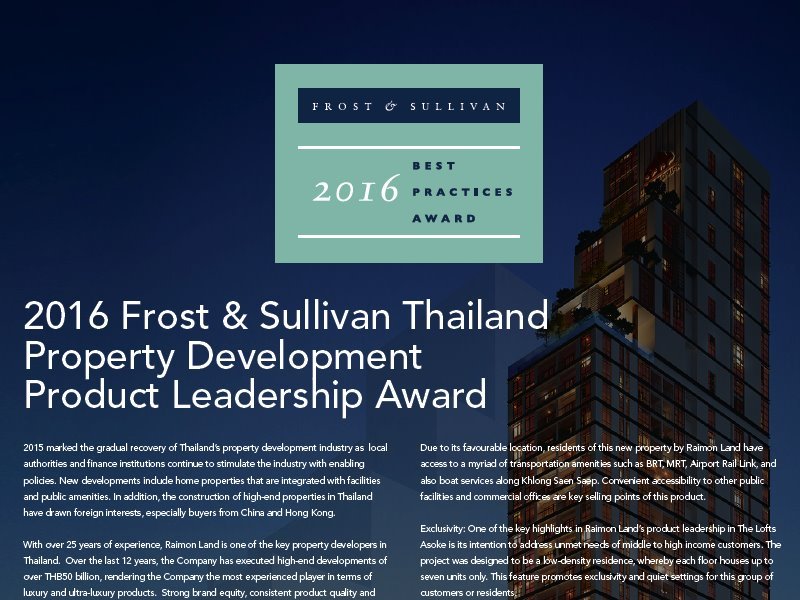 Properties: The Lofts Asoke
2015 marked the gradual recovery of Thailand's property development industry as local authorities and finance institutions continue to stimulate the industry with enabling policies. New developments include home properties that are integrated with facilities and public amenities. In addition, the construction of high-end properties in Thailand have drawn foreign interests, especially buyers from China and Hong Kong.
With over 25 years of experience, Raimon Land is one of the key property developers in Thailand. Over the last 12 years, the Company has executed high-end developments of over THB50 billion, rendering the Company the most experienced player in terms of luxury and ultra-luxury products. Strong brand equity, consistent product quality and excellent after-sale services are the key success factors; about 30% of newly launched property clients are repeat customers or referred by existing ones.
In 2015, Raimon Land introduced The Lofts Asoke as one of its flagship properties in the residential high-rise segment. Frost & Sullivan analyzed four success factors for its product leadership; Design, Location, Exclusivity, and Quality.
Design: The Lofts Asoke has a unique proposition in offering various interior concepts to the customers which are Raw, Bold and Functional. The Lofts Asoke's creative themes and designs are complemented with soaring ceilings and a sense of space to match the modern Bangkok lifestyle, inspired by the famous warehouse lofts of Soho or Tribeca.
Due to its favourable location, residents of this new property by Raimon Land have access to a myriad of transportation amenities such as BRT, MRT, Airport Rail Link, and also boat services along Khlong Saen Saep. Convenient accessibility to other public facilities and commercial offices are key selling points of this product.
Exclusivity: One of the key highlights in Raimon Land's product leadership in The Lofts Asoke is its intention to address unmet needs of middle to high income customers. The project was designed to be a low-density residence, whereby each floor houses up to seven units only. This feature promotes exclusivity and quiet settings for this group of customers or residents.
Quality: Raimon Land's led the property development industry with its unique architectural design that was inspired by western concepts and styles. Besides architecture, the company stood out from its competitors by combining technological prowess in its construction methodologies and building automation of The Lofts Asoke. Overall, Raimon Land has been successful with other projects such as The Lofts Ekkamai and Unixx South Pattaya; the company accounted brisk sales or take-up rates at 95% and 70% respectively. In 2015, The Lofts Asoke garnered an impressive THB 722 million (or 23% revenues from pre-sales bookings) within two weeks prior to its official launch.
Location: The Loft Asoke's added competitive advantage lies on its location in Sukhumvit, a leading business district in Bangkok.