Press Releases
15 September 2021
RAIMON LAND PARTNERS WITH THE ASCOTT LIMITED, UNDERTAKING SERVICED RESIDENCES AND HOTELS BUSINESS SECTOR WITH TWO RIVERSIDE PROJECTS TO PREPARE FOR FUTURE RECOVERY OF THAILAND TOURISM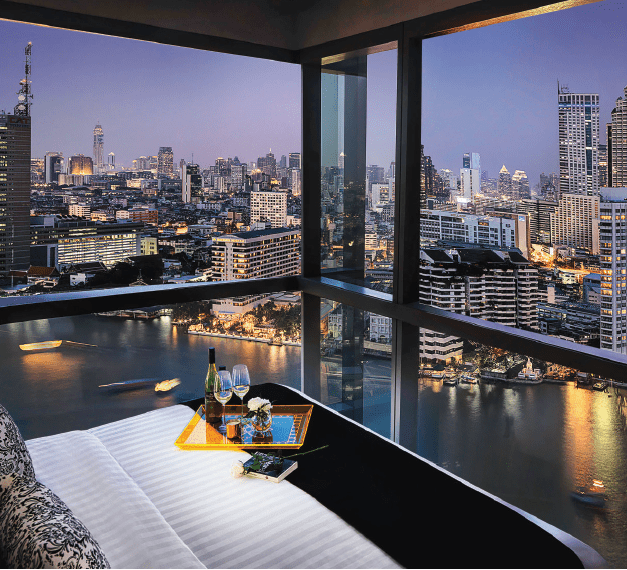 Bangkok – Raimon Land, Thailand's leading luxury real estate development, partners with The Ascott Limited, embarking on two new projects: "Somerset Riverside Bangkok" and "Lyf Riverside Bangkok". The incorporation with Ascott's internationally acclaimed management recognition will strengthen serviced residences and hotels business sector to ensure the readiness when tourism fully revives in the near future.
Korn Narongdej, Chief Executive Officer of Raimon Land and Thailand's leader in luxury real estate development, is honored to announce the partnership with The Ascott Limited, pioneered Asia Pacific's first international-class serviced apartment, signing the two Chao Phraya riverside projects: Somerset Riverside Bangkok and Lyf Riverside Bangkok. With the renowned international management standard that The Ascott Limited embodies, this partnership will strategically reinforce and serve the needs of Thai and foreign customers seeking for a setting of a panoramic riverside view. The projects with have numerous on-the-river excursions including Lhong 1919, The Jam Factory, Asiatique, IconSiam among many other exquisite sites and a direct access via Thaksin boat pier and BTS lines to the city center's CBD, entertainment and art zone.
Somerset Riverside Bangkok features 52 exclusive units, situated between the 23rd to 27th floors of the award-winning condominium on the Charoen Nakorn Road, The River. Each unit promises the state-of-the-art amenities and floor-to-ceiling windows to enhance a perfect living space overlooking the river and Bangkok skyline.
Located next door to The River is Lyf Riverside Bangkok, the project offers 71 units with practical and purposeful multi-functional common area such as 'Co-Working' zone and 'Connect' lounge to facilitate creativity and unravel, 'Bond' zone to exchange cooking experience with neighbors, and many other zones. With its innovative designs, guests can enjoy an extraordinary shared-living spaces, countless community activities, authentic local experiences, as well as networking opportunities.
"Although COVID-19 pandemic has led a sudden stop in tourism and a contraction in economic activities, government's recovery measures to reopen the country has gradually boosted the country's economy. We believe that since there will be a signification return of international tourists progressively, and in corresponding to the nation's tourism recovery, Raimon Land has planned a long-term approach focusing mainly on strategic locations. Alongside Chao Phraya River is among of which that has been beyond doubt the iconic place with spectacular view where most tourists are looking to unwind both short and long term because of its top-quality landmarks and conveniences. The partnership with The Ascott Limited depicts the new milestone incorporating with world-class management standards, reflecting the strengths of these two upcoming projects in addition to their prime location," Mr. Narongdej added.