Press Releases
05 July 2021
Raimon Land's New Normal approach - "The Ultimate Luxury Deals" Live Streaming Event, Offering Exclusive Virtual Show Unit Tours, and a One Day Only Special Deal Starting at 8.88 million Baht* and Discounts Up to 5 Million Baht!!!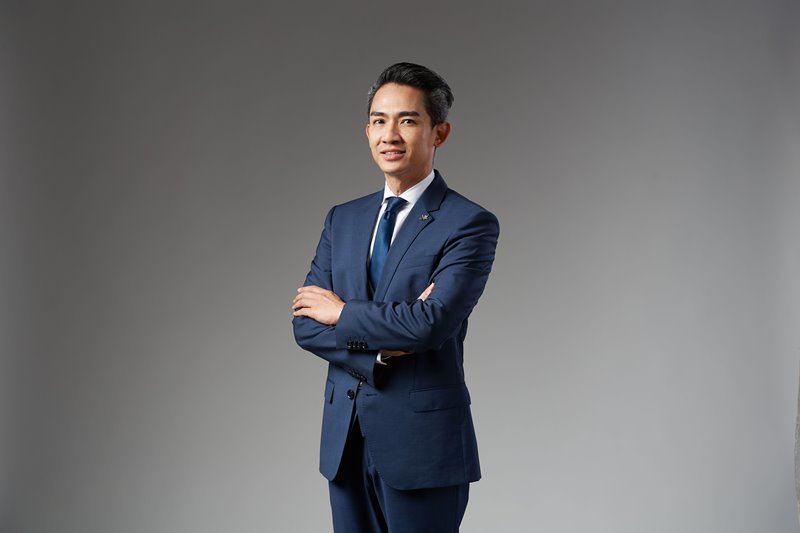 Bangkok – Raimon Land PLC. (RML), Thailand's leading luxury real estate developer, initiates live streaming event "The Ultimate Luxury Deals", introducing exclusive virtual show unit tours and offering special deals for one day only for two of its Ultimate Luxury projects, The Estelle Phrom Phong and TAIT Sathorn 12, with up to 5 million Baht in discounts* and prices starting at 8.88 million Baht*! The event will be held on 27 June 2021 from 14.00 p.m. onwards.
Mr. Manatase Annawat, RML's Chief Marketing and Sales Officer, revealed that Raimon Land was one of the pioneers in providing new online activities for its customers in response to the New Normal era. These activities include its very positive feedback online training program for those interested in making extra income by becoming project sales representatives, Blogger Day Live Streaming, and Raimon Land iConnect, an online platform where customers can take virtual tours of projects' sample units and set up VDO Call conferences with representatives. This new platform has been proven successful with the number of sales among both the Thai and international clientele. From the positive response of online sales and the success of the exclusive "Special Units" campaign, Raimon Land now plans to move forward with "The Ultimate Luxury Deals" live streaming event, hosted by the talented "Bam - Pitipat Kootrakul". In the event, participants can anticipate virtual tours along with special offers from two Ultimate Luxury properties located in the heart of the city; The Estelle Phrom Phong and TAIT Sathorn 12.
The Estelle Phrom Phong, a joint venture between RML and Japan's leading company TOKYO TATEMONO, is an Ultra Luxury High-rise condominium set on prime location in the heart of Phrom Phong. The Estelle Phrom Phong is built upon an Exclusive Community and aims to truly cater to the lifestyle of city dwellers. Set on Sukhumvit 26, the property is set among a world-class Lifestyle Hub, including the EM District, Thong Lor – Ekamai's lifestyle venues, 5-star hotels, Michelin Star restaurants, international schools, hospitals, with easy access to the BTS and tollways. The Estelle Phrom Phong is completed with full amenities, such as, 24-hour Concierge Services, cutting edge digital lifestyle fitness center from Techno Gym, Supercar Parking, Dedicated Guest Room, Dead Sea inspired Flotation Pool for ultimate relaxation, Onsens, private banquet room, conference room, filtration-system swimming pool and private elevators for special units.
TAIT Sathorn 12 is a Super Luxury High-rise condominium built under the concept of 'Live the Best of Sathorn Life'. It is located on Sathorn 12, in the heart of Bangkok's Central Business District and surrounded by some of the new generation's favorite hangout spots, whether it's Michelin Star restaurants, chic cafés, Roof Top Bar & Restaurants, and 5-star hotels. It is only 2 minutes away from the St. Louis BTS station and has easy access to tollways. Its unique Iconic Slope designs create special suites with rooftop garden view, with fully functioning features to all rooms, whether it's the bedroom, kitchen, office, or guest room. TAIT Sathorn 12 comes with a leveled rooftop common area and 6 floors of state-of-art facilities across 2,000 sq.m. such as Amphitheater Lounge, All-Purpose Fitness Room and cutting edge Fitness Studio with virtual trainer and latest equipment from Techno Gym, Sunset View Lounge, Garden View Library, Private Dinning and Sky Garden, Rooftop Temperature-Controlled Swimming Pool with Non-Chlorine Filtration System, Kid's pool, Jacuzzi, his and hers Steaming Rooms, and much more.
Both properties are now offering special deals, including:
Prices starting at 8.88 million Baht*
Discounts up to 5,000,000 Baht*
Additional 100,000 Baht discount*
Earn referral fees up to 400,000 Baht*
Receive x9 reward points from participating credit cards *
Receive a 3 day 2 night luxury stay at Villa Amarisa valued at 250,000 Baht*
The one-day only event will be held on 27 June 2021 from 14.00 p.m. onwards. For further information, please call 02-029-1888, add our Line Official @raimonland, or visit our website at WWW.RAIMONLAND.COM. For virtual site visits or online consultation with our Sales Team, visit us at RAIMON iConnect